ABOUT ME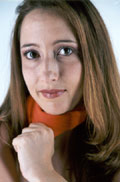 I was born in Tel Aviv 1970.

Growing up I was somewhat of a "Tomboy". Always looking for adventures.

When I was only a couple of years old, for example, I jumped out of a window to the family front yard and left by myself to explore the neighborhood. For the next few years, if you couldn't find me, tree tops and rooftops would be a good place to start looking.

Sure, so I gave my parents a scare once or twice, but since I always came back unharmed I've been recognized as a responsible, independent person. A label which I honorably carry to this day.

One of my favorite holidays growing up was "Purim" (the Jewish equivalent to "Halloween"). Over the years I got to be a multi-cultural girl; I was Japanese, Red Indian, Dutch and more.

I wonder now if my fascination for other countries was formed back then.

One thing for certain- my curiosity sure was.

When I was a little girl my mom wrote me something I'll never forget:

"To the sweetest and naughtiest girl of all, wishing you the world in whole.

Because anything less, as far as I know, will not rest your mind at all ".

My travels, however, were limited to Israel until my graduate year of high school, at which point I saved enough money of my own to step into the big world for the first time. My first destination was France. Paris is a great place to start.

The next couple of years, like every other Israeli girl my age, I spent serving the army. As I hoped for I made it to the Airforce and for the most part I had a good time.

A few months after my military service was over I was already backpacking.

With an around the world ticket I visited as many as eleven countries from east to west over a period of one year. A most memorable one too.

Fascinated by the Far East in general and Japan in particular I focused my studies on these subjects.

A couple of months before graduation I started working as a flight attendant for the Israeli airline "El-Al". 5 years of living out of a suitcase and loving it.

The world was made smaller and I paid my way to see it by serving hundreds of coffees and teas…

coach, business and first class.

This job gave me the opportunity to visit many places on the globe and I exploited it to the full.

You're invited to check out "THE WORLD ACCORDING TO GIGA".